Dance/Movement Therapy Research & Practice Committee
Mission:
The Research and Practice committee is dedicated to supporting the development of dance/movement therapy and the members of the ADTA. The committee is comprised of two groups: the research group, who focus on fostering and addressing issues in DMT research, and the practice group who focus on the professional identity of ADTA members.
The Research Group is involved in several on-going projects throughout the year. The Annual Research Award and The Annual Poster Session are two main events that are presented at the ADTA conference each year. To find out more about each, please click on the links.
The Practice Group is also involved in several emerging projects that support the professional development of dance/movement therapists. Some of their ongoing involvements include:
Facilitating the development of new areas of practice for dance/movement therapists
Developing the scope of practice with approval from the ADTA board of directors
Clarify the relationship of DMT to other therapeutic dance and somatic practices
Working with the Public Relations Committee to accurately represent dance/movement therapy areas of practice in all public relations materials
Finally, each year the committee hosts or presents a workshop, intensive or plenary session about some aspect of research that is of current interest to ADTA members. Please check the most recent ADTA conference brochure for our latest workshop!
Who We Are:
Rebecca Barnstaple, PhD
As a postdoctoral fellow at York University in Toronto, Rebecca conducts research on the neurobiological effects of dance in health and disease (https://www.rebeccabarnstaple.com/). Graduating from the National Centre for Dance Therapy (NCDT) at Les Grands Ballets Canadiens in Montreal (2015), she provides dance-therapy based programs for people with chronic pain, Parkinson's, and Alzheimer's, and is a core instructor for IMPROVment, an organisation providing movement-based interventions for brain and body health at Wake Forest University in Winston-Salem, North Carolina (http://www.improvment.us/). Rebecca is also a member of the steering committee of Dance Movement Therapy Ontario and the Groupe d'intérêt scientifique of the NCDT.  
Research interest: neuroscience/neuroimaging, motion capture, neuroplasticity, learning, phenomenology
Email: [email protected] 
Karolina Bryl, PhD, R-DMT/DMP, CMA, RSMT/E
Karolina is a certified dance movement psychotherapist (DMP), registered dance/movement therapist (R-DMT), certified movement analyst (CMA), registered somatic movement therapist, educator, and a researcher. She currently works as an adjunct faculty and postdoctoral research fellow in the Department of Creative Arts Therapies at Drexel University. She is a member of the Polish Dance Movement Psychotherapy Association (Ethics Committee), American Dance Therapy Association (Research and Practice Committee) and Schizophrenia International Research Society (Ethics Committee). As a clinician, she has lead dance/movement psychotherapy and somatic therapy sessions in the psychiatric settings and in private practice, with children who have suffered neglect and abuse, and autistic spectrum disorder, and adults with serious mental illness. As an educator, Karolina teaches dance/movement therapy and movement observation and analysis courses globally including China, India, Poland and the US. As a researcher, Karolina is interested in the complexities of health and functioning, and the role psychosocial interventions that utilize creative arts therapies can play in treatment. Karolina is the co-author of the ADTA's 2016 Member Survey and Practice Analysis.
Research interests: DMT effectiveness on health-related psychological outcomes, specifically in adults with mental illness, telehealth delivery of DMT, nonverbal behavior and the body's relevance to psychic processes.
Email:[email protected] 
Robyn Flaum Cruz, PhD, BC-DMT, LPC
Robyn is Professor of Expressive Therapies at Lesley University in the PhD Program (https://lesley.edu/about/faculty-staff-directory/robyn-cruz). Her research interests encompass movement disorders associated with psychopathology, and topics in the disciplines of dance/movement therapy, psychology and neurology, communications disorders, and psychology. Author and editor of two volumes on research in the arts therapies and dance/movement therapy, she is interested in techniques for teaching research, and engaging clinicians in reading and understanding published research including qualitative and quantitative methods. Research design, measurement, reliability, and data analysis are of special interest. Robyn is a Past President of American Dance Therapy Association, Editor-in-Chief Emerita of The Arts in Psychotherapy and of American Journal of Dance Therapy. 
Research interest: movement disorders, psychopathology, research design, measurement 
Email: [email protected] 
Cecilia Fontanesi, PhD, R-DMT, CMA, RSME, RYT-200
Cecilia is a dancer, certified movement analyst (CMA), dance/movement therapist (R-DMT), and neuroscientist (PhD). She graduated from the Laban/Bartenieff Institute of Movement Studies (LIMS, New York), where she currently teaches as Core Faculty and serves on the Diversity, Equity, and Inclusion Committee. Cecilia received a PhD in Biology Neuroscience with a dissertation on Dance for Parkinson's at the Graduate Center, CUNY (https://academicworks.cuny.edu/gc_etds/4073/). Since 2016, Cecilia has worked as a Dance/Movement Therapist with people with Parkinson's, Alzheimer's, and other dementias (https://www.frontiersin.org/articles/10.3389/fpsyg.2020.600440/full) . Cecilia serves as the Research & Practice Committee Chair of the American Dance Therapy Association (ADTA). In 2015, she co-founded the collective Parcon NYC, dedicated to exploring the relationship with the environment through movement and social reflection. Since 2017, she is the Associate Artistic Director for the IDACO festival (Italian DAnce Connection) Cecilia is supported by the Overtime Dance Foundation, founded by Cathy Appel.
Research interest: dance, improvisation, neuroscience, Laban Bartenieff Movement System, social and environmental justice
Email: [email protected] 
Monica Gaydos, MA, R-DMT, RYT-200 
Monica is a dance movement therapist from Pittsburgh, PA. She received her MA in Dance Movement Psychotherapy from the University of London and worked as a dance therapist in inpatient psychiatric settings, schools, and nursing homes, and as a creative and expressive movement facilitator. Monica is a Research Fellow/PhD Candidate in Creative Arts Therapies at Drexel University, assisting with Dr. Minjung Shim's NIH-funded study on Mindfulness-Based DMT for Chronic Low Back Pain. Monica's additional research interests include participatory action research (PAR) and phenomenology as tools to explore the lived experience of oppression as embodied trauma in marginalized populations.

Research interest: mindfulness, interoception, PAR, phenomenology, embodied social justice, neuroscience of trauma
Email: [email protected]  
Kyung Soon Ko, PhD, BC-DMT, LCPC, GL-CMA, NCC
Kyung Soon is an Assistant Professor at Soonchunhyang University in Korea (https://gradu.sch.ac.kr/boards/lists/sub02_0304). 
Kyung Soon conducts research on cultural aspects of learning and teaching dance/movement therapy in East Asia, and on Authentic Movement. Kyung Soon Ko is currently a co-researcher in developing a VR-based app for mental health (project funded by the Korean National Research Fund). Kyung Soon provided dance/movement therapy for adults and violence prevention programs for children through Chicago Asian Human Services. Kyung Soon received the 2015 Award for Journalism by The Marian Chace Foundation. Kyung Soon is also a Chief Editor of the Korean Journal of Body-Psycho Studies.  

Research interest: East Asian Culture, Laban Movement Analysis, Clinical Supervision, Qualitative Studies, Virtual Reality.  
Email: [email protected]  
Tal Shafir, PhD, R-DMT, CMA
Tal is a Research Fellow at the Emili Sagol Creative Arts Therapies Research Center, University of Haifa, and a Neuromovement® practitioner (https://www.talshafir.com/). She was certified as a DMT in University of Haifa, and completed her PhD in motor control and two postdoctoral fellowships: in brain-behavior interactions and in neuroscience of emotions, all at University of Michigan. Her research, which focuses on movement-emotion interaction, its underlying brain mechanisms, behavioral manifestation, and clinical applications, was featured in her TEDx talk "How your body affects your happiness" ( https://www.youtube.com/watch?v=ljm0ldxgkcE). Tal taught DMT at University of Haifa and the Academic College of Society & Arts, served as the main editor of The Academic Journal of Creative Arts Therapies, and initiated and was the lead editor of Frontiers in Psychology research topic: 'The state of the art in creative arts therapies' (https://www.frontiersin.org/research-topics/6368/the-state-of-the-art-in-creative-arts-therapies). Her current study of the associations between personality traits and movement patterns is funded by the Chace Foundation, and in 2020 she received the ADTA Innovation Award. 
Research interests: neuroscience, movement-emotion interaction, motor interventions, Laban-Bartenieff Movement Analysis (LBMA), movement-based automated emotion recognition. 
Email: [email protected] 
Minjung Shim, PhD, BC-DMT 
Minjung is an assistant professor in the PhD program in Creative Arts Therapies at Drexel University (https://drexel.edu/cnhp/research/faculty/ShimMinjung/) and the Director of Mind-Body & Movement Research for Whole Person Health Lab. In her lab, Minjung examines the efficacy and effectiveness of dance/movement therapy (DMT) on positive health outcomes in people with various psychological and medical disorders. 
Minjung has received her MA and PhD degrees in Creative Arts Therapies from Drexel University and fulfilled her postdoctoral training at Stony Brook University. For her doctoral dissertation research, Minjung focused on developing and testing a DMT protocol for chronic pain management and building a theoretical model. Her postdoctoral research was sponsored by National Aeronautics and Space Administration (NASA) to examine the role of remotely delivered behavioral interventions on health outcomes in astronauts during deep space mission. Minjung has been conducting federally funded research projects including National Institute of Health (NIH) and Pennsylvania Department of Health as a principal investigator and regularly serves as a grant review panel at NIH. 
Research interest: medical DMT, healthy aging, mindfulness-based approaches, clinical trials, theory and model-building, telehealth and remote delivery of DMT, embodied virtual reality intervention 
Email: [email protected]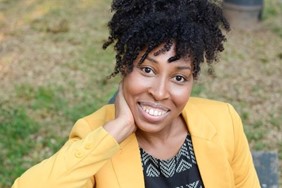 Chevon Stewart, BC-DMT, LCSW 
Chevon is a Teaching Faculty and Low Residency Dance/movement therapy coordinator at Antioch University New England.  She is also a PhD Candidate in Lesley University's Expressive Therapies program.  Her current research utilizes qualitative and arts-based research to explore anti-oppressive pedagogy in DMT. Preferred Pronouns: She/her/hers
Research interest: Phenomenology, anti-oppressive pedagogy, African Diaspora, BIPOC 
Email: [email protected]