Glorianne Jackson
Professor Emeritus Glorianne G. Jackson's contributions to the field of dance movement therapy are unique in her ability to integrate her experiences in public service, dance education, special education, adult education and dance movement therapy. Her personal and professional lives have been dedicated to cultivating and using the arts in cross-cultural learning. She is currently contributing to developing scholarship in the field of dance therapy by offering her life experience to a research initiative documenting and archiving the lifework and contributions of dance therapists of color, nationally and internationally. She continues to support the mission of expanding representation of diverse identities in the field of dance movement therapy,
"We need more dance therapists from diverse backgrounds because when we go to diverse communities there should be representation of people that look like members of that community. We must be intentional about the invitation to more minorities and people of color, to come into the programs, graduate the programs, and do the work in various communities. We will all do better as we grow beyond our individual biases and blind spots with the sincere help, understanding and commitment of others."
Prof. Jackson holds a Bachelor of Arts degree in Psychology from DePaul University in Chicago, a Master of Arts in Dance Education from Columbia University Teachers College, NY, and extensive advanced study in psychology, special education, and arts education.
Jackson describes her entrance into the field of dance movement therapy as a series of opportunities of "being at the right place at the right time." She recalls meeting Alma Hawkins during two workshops in Peace Corps Training at UCLA. She was introduced to the field of dance movement therapy while studying Effort/Shape with Irmgard Bartenieff.  Other teacher/mentor/colleague/friends Thais Barry, Karl Shook, Thelma Hill, Dorothy Vislocky and Pearl Primus played major roles in her career development. She had the good fortune of being directly invited by a founding member of the ADTA to study in the first dance movement therapy graduate program at Hunter College. In her dance movement therapy training she studied and learned directly from Claire Schmais, Elissa White, Martha Davis, and guest teachers Norma Canner, Marian North, and Elizabeth Polk.
In 1975 Jackson was invited by Dr. Miriam Roskin Berger to work as a dance therapist in her innovative Creative Arts Therapy Department of Bronx Psychiatric Center in New York.  After a brief period working with hospitalized acute psychotic patients, Dr. Berger recommended her to become the dance therapist for the Parent and Child Education Program (PACE) for emotionally disturbed mothers with high risk preschool children, where she served for twelve years.  The PACE program, an outpatient unit at Bronx Psychiatric, was designed and administered by clinical psychologist, Dr. Carolyn Goodman (who became a prominent civil rights advocate). The Program was replicated in this country and abroad, and in 1980 was presented with a GOLD Award for excellence by the American Psychiatric Association.  Working with PACE allowed Mrs. Jackson to specialize in facilitating dance movement therapy with mothers, infants and children.  Additionally, she was asked to be the program teacher for her last two summers and realized the enormous benefit of more time working with the children and DMT experiences. Her work with PACE is documented in Movement and Growth: Dance Therapy for the Special Child edited by Dr. Marcia Leventhal; and it was the connection for her work with Dr. Suzi Tortora's 2019 ADTA Conference Panel on Tracing the Roots of Infant, Child and Adolescent DMT.
Jackson has taught at Arthur Mitchell's Dance Theater of Harlem; Newark Community Center for the Arts; the dance major program of Hunter College and spearheaded development of the B.A. and B.F.A. Dance major programs at Marymount Manhattan College in New York City.  As a full- time faculty member she was able to garner the support of the college to host a variety of dance company performances and events such as the 1980 Creative Arts Therapy Conference. The next phases of Jackson's career were dedicated to extraordinary work with students in New York City special education programs (particularly children identified with autism), and later at the Sonia Shankman Orthogenic School at the University of Chicago.
My intention in featuring Professor Emeritus Glorianne Jackson is to celebrate her excellence and honor her life and contributions to the field of dance movement therapy and beyond, especially as we recognized Black History Month for the first time in the history of the ADTA. As a dance movement therapist in training, I have greatly benefited from the generosity of spirit, wisdom and lightheartedness she has to offer. It has been my honor to witness how she has chosen to lead a life of service and fruitfulness. As a wife, mother, grandmother, and professional educator, ordained minister, and dance movement therapist, Mrs. Jackson is without a doubt a brilliant being of multiplicity whose essence exceeds the limits of this writing. A dedicated life-time learner, at seventy-nine years of age and in her years of retirement today, Jackson contributes to educating generations of growing minds in the various communities she is an engaged member of, including emerging dance therapists like myself, all the while continuing to expand the limits of her knowledge through recertification programs and educational workshops. I am happy to know that more is to be learned from Prof. Jackson and hope for it to be featured and supported by the ADTA community in times to come.
By: Krystal Elizabeth Garcia
In reciprocity with Glorianne G. Jackson and in collaboration with an independent historical archives project, "People not in the Books: the Voices of Multiplicity in Dance Therapies".
From working at Bronx Psychiatric Center, Parent and Child Education (PACE) program.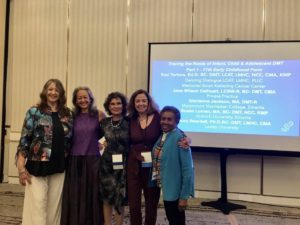 2019 ADTA Conference