Esther Schultz, MA, BC-DMT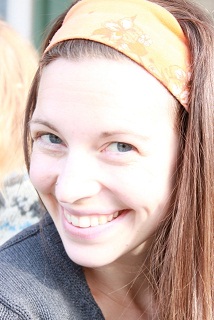 In beating hearts and fast firing neurons, deep lung filling breaths and oxygen rich blood traveling long curvy pathways through the body, we find the subtle internal rhythms that define life. Mary Starks Whitehouse wrote " . . . movement is one of the great laws of life. It is the primary medium of aliveness, the flow of energy going on in us like a river all the time, awake or asleep, twenty-four hours a day . . ." The absence of movement brings the dissolution of aliveness. Dance/movement therapists, by their very nature, tune into the vitality of movement to foster a sense of wellbeing. It is inside the rhythmic wisdom of the body that DMT's practice their craft. How does a dance therapist, an artist facilitating health through bodily motion, work with clients in varying stages of embodying stillness? Esther Schultz, a BC-DMT in a hospice facility, uses the moving essence of life to bring wholeness and peace to her clients as they experience their shift out of this life.
Originally from Ohio, Esther began her foray into dance at 15. She continued dancing at Bowling Green State, while majoring in psychology and minoring in dance and history. A college professor introduced her to the field of dance therapy, and she chose to earn her master's degree at Drexel University, graduating in 2006. Esther began her career as a DMT at an inpatient psych facility. Soon, one of her internship sites, a hospice, asked her to come and work for them. Esther accepted and has been easing adults and pediatric patients, into their final days for the past six years. Family members and siblings also receive Esther's support, as the process of dying affects those who continue to live. Much of her current work involves bereavement counseling with patients of all ages in individual sessions. She also occasionally leads workshops and group sessions, and has organized bereavement camps for children. Esther is fortunate to be an integral part of a hospice team who believes in creativity as an important key to health and well being, as the facility offers dance, art, and music therapies to all of their patients and families.
In her work with people whose internal rhythms are approaching an ending, Esther has found challenges in "adapting the traditional models of DMT to accommodate the hospice patient and the movement and energy limitations." She attunes to each client, guiding a process to meet their individual needs, while maintaining an awareness of the overarching goals that inform her interventions. Many of her interventions are designed to "decrease restlessness [and anxiousness]; increase self-expression and facilitate closure and life review; to address the changing body experience while promoting independence and fostering a sense-of-self through the creative process; maintain and increase quality of life; and, to adapt sibling play relationship." She is continually inspired by the people she witnesses, finding gratitude and humility as they share the depth of their departure with her. "I feel especially privileged to work with our pediatric hospice patients. It is an honor to witness and participate in such sacred moments in these individuals' lives."
Her work is sometimes subtle and tenderly graceful. She describes a session with Joey, a 4-year-old masterful storyteller, who was referred to the hospice following aggressive treatment for an end stage, pontine glioma tumor. As this child navigated his journey, slowly losing his ability to move, Esther used transitional objects, play, and storytelling in their dance/movement therapy sessions. His natural creativity enabled him to engage and process his internal experience. With an imagination on fire and two invertible balls he named "Spikey Man" and "Stanley," he explored themes of inside/outside, stillness, and safe places, using his hands to move, hide, bounce the characters through his story. Esther's goals for her work with him were to "address body integration, promote self-expression, offer creative channels for sensory stimulation, and to promote play interactions." As he neared his final days, his movement only in his toes, he wove a lovely story. Esther facilitated this process by touching his feet with soft balls. He circled his toes around the balls and told "an elaborate story about a trip his toe was going on. Rotating the ball as Joey lifted his toe and tapped his foot, he described the scenery and how long the toe had to travel before it could rest. At last, the toe reached its destination. As [he] completed the story, Joey looked up with a smile as wide as the horizon and eyes dancing with delight. The session came to a close."
In another session, Esther describes working with an adult. In this session, she engaged the client in body part warm-ups, breathing and relaxation techniques, Tai Chi-inspired movement, and Authentic Movement. Her client willing participated in the movement work and was able to locate the pain in his left shoulder and spine and the limited use of one side of his body. As their work together progressed, he began to identify movement motifs and connect them to psychological themes in his life. He was soon exploring his experience with homelessness and addiction. He reflected on the movement process, saying: "I expressed my feelings through the movement, it felt good." He also said, "I think to be whole is to have my heart and mind match, I have come to that place from a very long journey."
Using her own creativity, Esther has carved out many ways to adapt a modality grounded in movement to those who are negotiating their way out of movement. She relies on a supportive team of nurses, social workers, chaplains, and other creative arts therapists to help manage the intensity of the environment. She also incorporates her own self-care in the form of yoga, knitting, and relying upon the support of her family.
An artist of movement, Esther tenderly evokes vitality and aliveness in those lives she is fortunate enough to be a part of. Using her own internal rhythms, heart beats and deep breaths, Esther moves gently alongside those whose heart beats and deep breaths are slowing; tapping into their essential aliveness as they approach stillness.