ADTA Diversity, Equity and Inclusion (DEI) Strategic Planning Process
Background
The ADTA has been on a path of increasing diversity, equity and inclusion within the association since at least 2008 when the ad hoc Multicultural and Diversity Committee (MDC) was created and then later ratified as a permanent committee by membership in 2011. 
Much happened between 2011 and 2018 as the MDC built the infrastructure of the committee from the ground up. In 2018, the annual conference keynote featured presenters from the MDC who called out and called on the ADTA to address issues of white supremacy and oppressive culture within the association. This led the Board of Directors to partner with DEI consultant Carmen Marshall over the past 18 months and engage in training, deeper inquiry, concrete actions, and repair processes when possible. One outcome of leadership's work with Carmen was the decision to completely overhaul ADTA's office operations to better align the staff and operations with DEI efforts moving forward.
In March 2020, the Board was preparing to enter into strategic planning, including planning for DEI initiatives, at our annual spring board meeting. As part of that preparation, we were ready to send out a membership survey, including questions about inclusion. And then COVID arrived and the world was put on hold for several months until May 25th when George Floyd was murdered by the police. Again our membership called out and called on the ADTA to urgently prioritize actions to dismantle racism, oppression, and white supremacy culture within our association. 
In the initial weeks after May 25th, we received extensive feedback from listening sessions, social media, email and personal conversations. The feedback laid clear the pain and marginalization of Black members within the ADTA. It is also clear that this pain and marginalization is not limited to Black members but also experienced by Latinx, Asian and Asian-American, Native American and LGBTQIA+ members as well as members with disabilities, amongst others. The need for action, guided by an inclusive, long-term, plan was urgent. 
The following describes a multi-phased process in which we seek to work together with our membership to develop an inclusive, comprehensive Diversity, Equity and Inclusion Strategic Plan as a roadmap for the goal of creating an equitable membership association for all. The Strategic Plan that is developed will be long-term, ever evolving and include mechanisms for ongoing feedback/updating, reporting out and accountability. 
Below you will find a link to review a report of initial action recommendations (Phase I) and then we invite your involvement in Phase II: membership input and feedback. 
---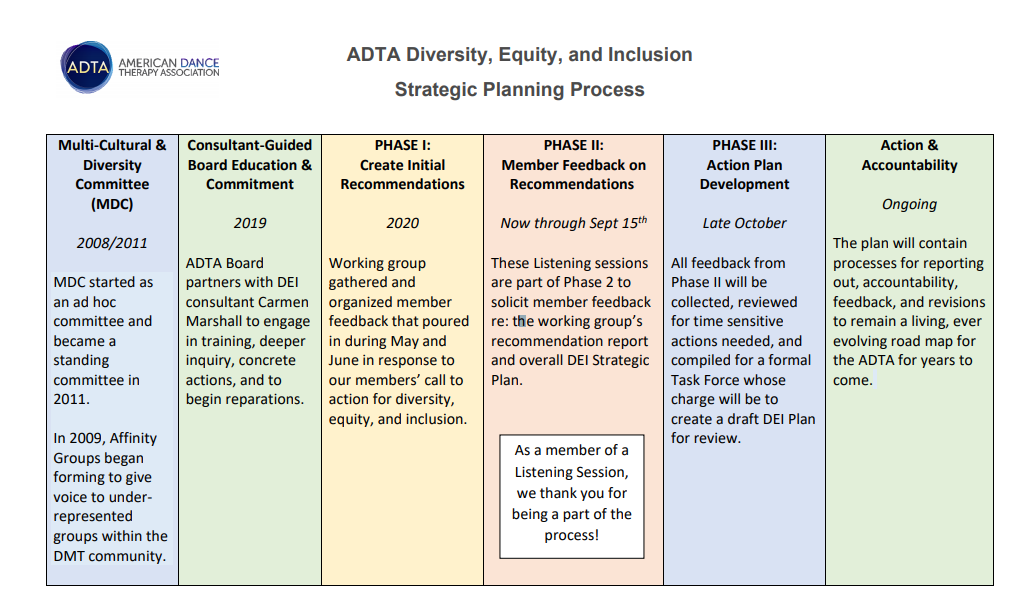 In addition to the Listening Sessions, your feedback can be offered in the following ways:
Electronic Feedback Form on Website
Contact any member of the Board of Directors:  all emails are on the website
www.adta.org
PHASE 1: Feedback Review, Create Initial Action Recommendations 
For Phase I and as a first step towards creating a comprehensive, long-term DEI plan, a working group of five ADTA members agreed to review the feedback from those first weeks in June, organize it and present it to the Board of Directors and membership in the form of action recommendations. The members of this group represented cross-generations of DMTs (including a new professional and student). As the working group's task was to organize and present the direct requests already given to us from Black members, the decision was made to comprise this group of white members so as not to place further burden on Black membership. You can learn more about the work group's process as part of their report, linked below.  
The Board of Directors would like to thank the members of the work group: Jacelyn Biondo, Melody Gamba, Nicole Koontz, Joan Wittig and Robyn Cruz, who worked diligently to organize our membership's feedback and requests into the initial steps of a strategic plan. Additional gratitude to Charné Furcron, Angela Grayson and Meg Chang who generously reviewed and provided edits and feedback to the work group's document. 
We are now requesting our members to read the working group's report and recommendations and to provide feedback and input as we initiate Phase II of the planning process. 
Click here to Read Phase I Report and Recommendations
---
Diversity, Equity and Inclusion Strategic Planning Process
PHASE II: Membership Feedback and Input 
Phase II is an extended feedback/input phase which continues through September 15th. 
During this time, we are soliciting membership feedback to the action recommendations in the work group's report as well as broader input into the development of the comprehensive DEI Strategic Plan, which will happen in Phase III. We hope you will take the time to co-create this plan by providing us with feedback over the next several months using one or more of the following mechanisms: 
Submit Electronic Feedback Form

Attend a Leadership Listening Session
Contact a Member of the Board of Directors
---
 Diversity, Equity and Inclusion Strategic Planning Process
PHASE III: Plan Development, Implementation, Ongoing Updates 
All feedback from Phase II will be collected, reviewed for time sensitive actions needed, and compiled for a formal Task Force whose charge will be to create a draft DEI Plan for review, with a target date of mid to late October. This plan will contain processes for reporting out progress as well as for accountability, ongoing feedback and plan revisions. It will remain a living, ever evolving road map for the ADTA for years to come. 
---
Finally, we want to assure you that  over the next 4 months of the planning process, ADTA leadership will continue addressing short-term actions and reporting out to the membership as a way to maintain momentum while still developing an inclusive, long-term plan.