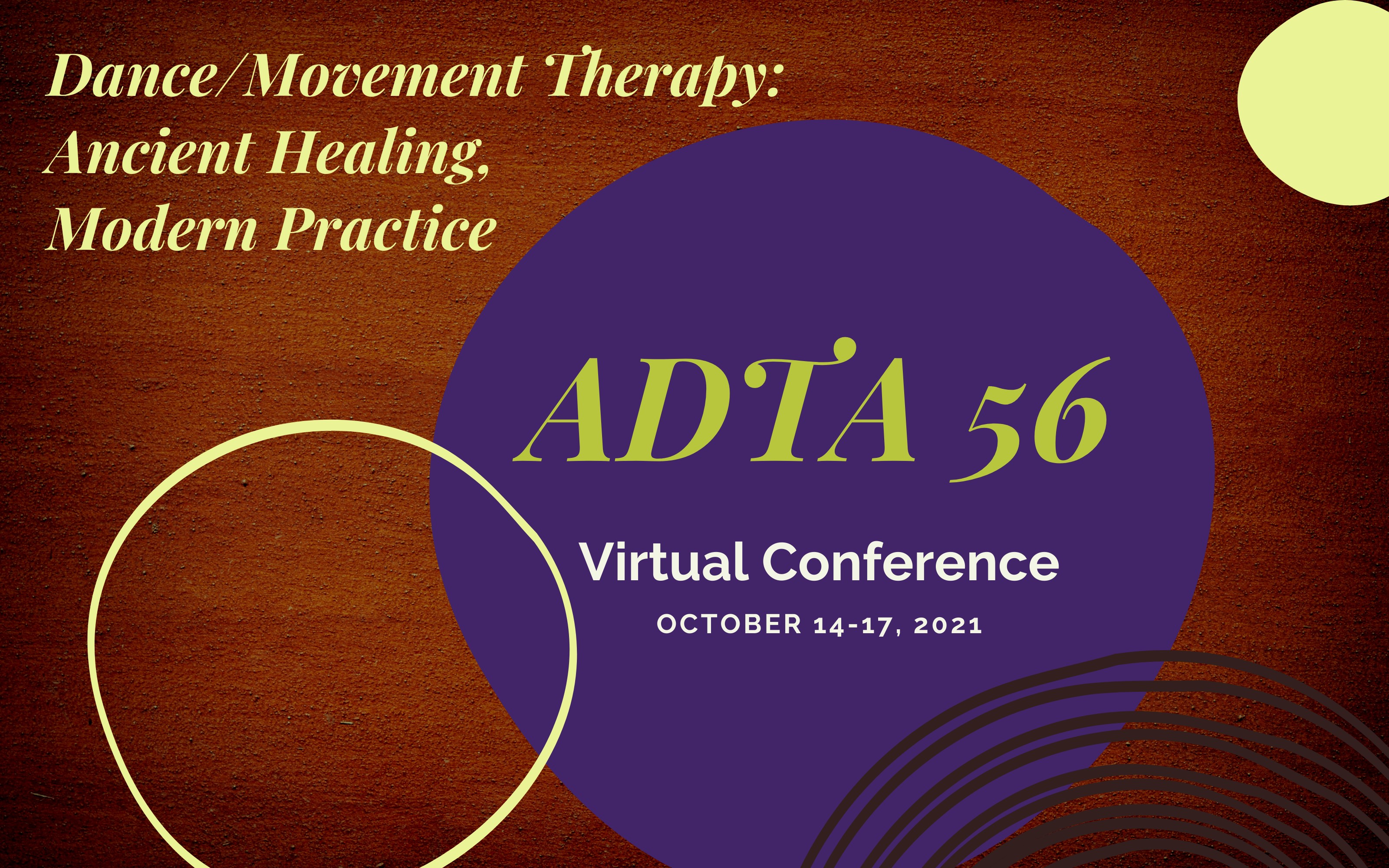 Dance/Movement Therapy: Ancient Healing, Modern Practice
In ancient times of celebration, social engagement and war, the people would dance. Our ancestors understood the power of dance to evoke change, provide healing and unite the community. As a result of COVID-19, many of our celebrations and rituals were grossly impacted due to social distancing and sheltering in place. More than ever we are called to rely on ancient healing practices that encompass dance, culture and spirituality to lift our spirits and provide a sense of community. This year during the 56th Annual ADTA Conference we invite you to share your cultural and spiritual healing dances as we navigate these peculiar times together!
2021 Conference Committee
Angela Grayson, Chair, Annual Conference Committee, President Elect
Jacelyn Biondo, Treasurer
Charne Furcron, Multicultural & Diversity Committee Chair
Ebony Nichols, Multicultural & Diversity Committee Conference Liaison
Angie Yemma, Public Relations Committee Chair
Pam Margules, Central Region Member-at-Large
Sabrina Washington, DAAG Rep
Lora Wilson, ADTA CE Manager
Sara Van Koningsveld, New Media Manager
ADTA Office Staff
Michelle Lavoy, Operations Manager
Lauren Hoyt, Administrator
What's new in 2021?
ADTA 56 is directly informed by the feedback we received from conference attendees at the past two virtual conferences. The ADTA is excited to bring you a conference that integrates live, interactive continuing education and community building events with numerous on demand presentations for viewing at your convenience. 
This year's annual conference offers attendees approximately 30 CEs, including live and on demand presentations, and over 33 hours of community engagement and interaction over six days!
 
Based on your feedback we have simplified the registration pricing. One fee grants you an all access pass to the entire conference - all live events, pre-conference events, and on demand recordings!
Also new this year is a Conference Registration Sliding Scale. Due to COVID, the ADTA has been looking at ways our association can provide our membership a more affordable experience. We are offering our professional members the opportunity to cut the total cost of their conference fee based on how much they can afford to pay. (Please note: This discount cannot be combined with any additional discounts and is only available for professional and retired professional members.)
This year's conference registration will include:
Access to three (3) Pre-Conference Community Events (NEW FOR 2021):
This year we offer the following two events prior to our 4-day conference schedule:
"Interactive" Happy Hour Breakout Rooms –Tuesday, October 12th 8:00 PM – 9:00 PM ET
New Professional Happy Hour - Wednesday, October 13th 7:00 PM - 9:00 PM ET
MAL Regional Caucuses 

–

Wednesday, October 13th 8:00 PM- 9:00 PM ET
Access to Live Events:
Opening and Closing movement ceremonies, including the honoring of recently credentialed dance/movement therapists
1 Keynote Plenary
Meet the Board

(NEW FOR 2021)

Annual Business Meeting and Awards/Recognitions
Marian Chace Foundation Lecture
International Panel
Shabbat Candle Lighting Ceremony
MDC Shared Space Cultural Healing and Committee Meeting
Research Poster Session Q&A 

(Extended live session for 2021)

3 BONUS Movement Sessions 
Concurrent Live Sessions (NEW FOR 2021)

Our 2021 conference schedule will contain concurrent sessions in which registrants will be required to choose which presentation option they wish to attend on each day. Registrants will only receive access to the live presentations selected on their registration form.

And the Best Saturday Night Dance Party… live… virtual … anywhere!
Access to On-Demand 2021 Conference Workshop Catalog in the ADTA CE Center
Conference attendees will have access to all conference recordings until Feb 28, 2022. 


Post Conference On-Demand Access to all recorded 2021 Live Presentations (NEW FOR 2021)
• Registrants will be given post conference On-Demand viewing options for all Live recorded presentations.
 
Interested in saving on your conference registration?
Become a member of the ADTA today to receive a discounted conference registration and all other member benefits through June 2022! 

Accessibility Requirements 
Closed captioning will be available for all on demand conference presentations/recordings. The ADTA will provide closed captioning and/or ASL as needed for live conference events. 

The American Dance Therapy Association has been approved by NBCC as an Approved Continuing Education Provider, ACEP No. 5739. Programs that do not qualify for NBCC credit are clearly identified. The American Dance Therapy Association is solely responsible for all aspects of the programs.
The American Dance Therapy Association is recognized by the New York State Education Department's State Board for Mental Health Practitioners as an approved provider of continuing education for Licensed Creative Arts Therapists #CAT-0035.