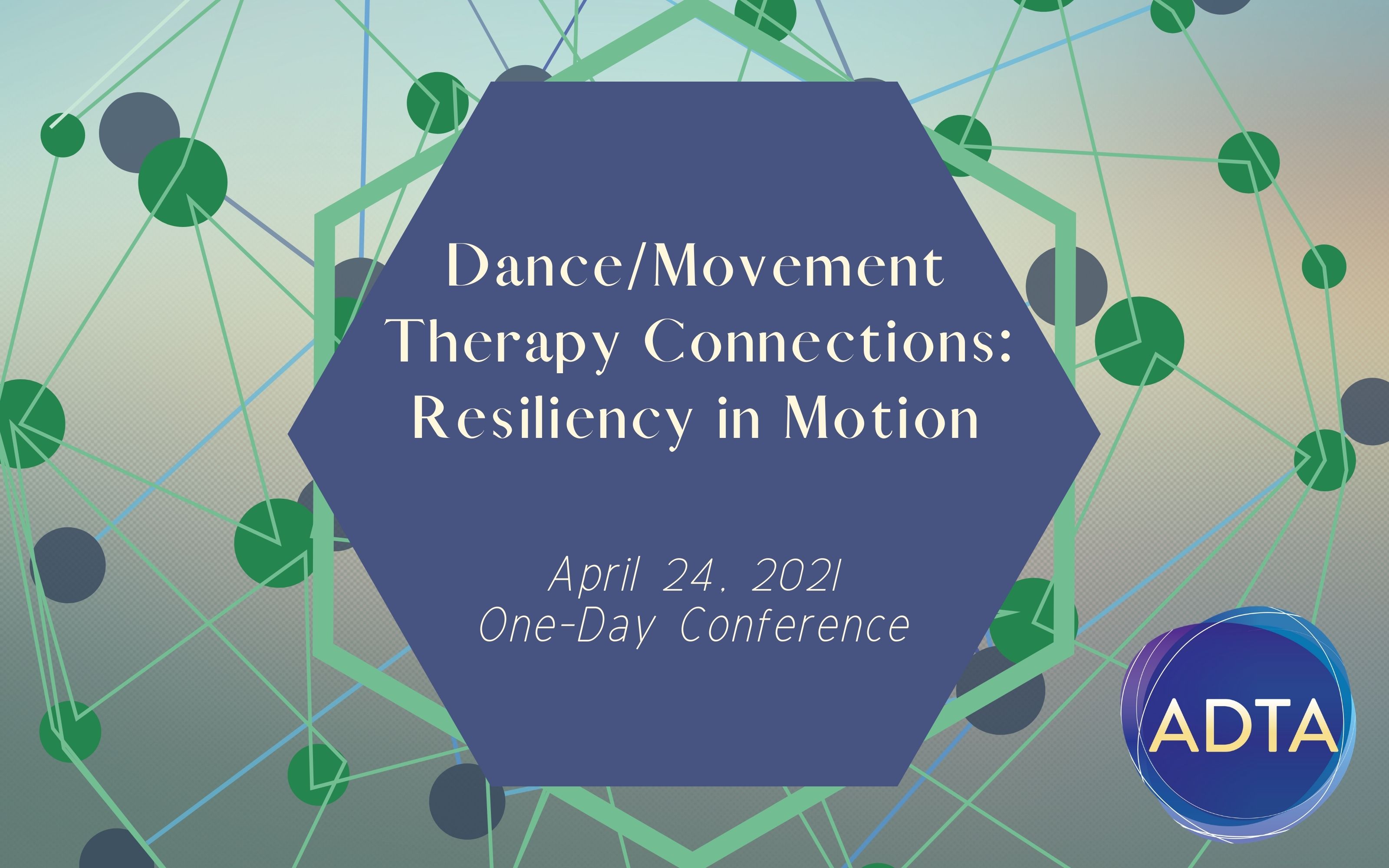 Come join us SATURDAY, APRIL 24, 2021 for 
Dance/Movement Therapy Connections: Resiliency in Motion
(Spring Virtual Conference)
Registration Now Open!
Deadline to register is Thursday, April 22nd at 5:00 PM ET
As we observe the anniversaries of the changes to our lives that the pandemic and heightened racial unrest wrought in 2020, we wish to pause to honor the innovation and grit of our dance/movement therapy community, to acknowledge our grief, and to celebrate our individual and collective resiliency.  Let's come together, witness, listen, share and dance with one another. This one-day virtual mini-conference will be an opportunity for members to share best practices in new innovations that we have discovered as teletherapists and socially distant frontline workers, to receive updates from the ADTA Board of Directors, to witness each other's journeys through a collective movement experience and to celebrate the joy of dance to connect, heal and unite.
(Please note this is a community-based, interactive day intended as a live event. The conference as a whole will not be recorded with the exception of the Keynote, which will be available for on demand viewing at a later date.)  
4.5 ADTA CEs, 1.5 NBCC CEs, 1.5 NYLCAT CEs

(All times are in Eastern Standard Time)
12:00 p.m.  – 12:45 p.m. 
Welcome! 
We will begin the conference with an orientation to the day's events, important announcements from the ADTA Executive Committee and an intention setting movement ritual.
1:00 p.m. – 1:45 p.m.
Speed Networking! 
Back by popular demand, one of the most popular events from our Fall Conference!
A fast-paced, fun way to meet random dance/movement therapists from around the world!  Every five minutes you will be invited into a new breakout room where you get to meet other conference attendees. Will you make a new friend? Bump into a classmate from days of yore? Meet a future research partner? Only one way to find out.
2:00 p.m. – 4:00 p.m. 
Zoom Out <--> Zoom In
Dance/Movement Therapy during COVID-19: A Community Debriefing
Whether adapting to telehealth, teaching online, or conducting socially distanced DMT groups in layers of PPE, dance/movement therapists have had to adapt their clinical and pedagogical practices in extraordinary ways this year. In this moderated community discussion, attendees are invited to breakout rooms to share successes and lessons learned in 2020. During the first hour, attendees are invited to "Zoom Out" to brainstorm new insights, interventions, and tools discovered during the past year as dance/movement therapists. During the 2nd hour, attendees will get to "Zoom In" to the topic/population of their choice and enter breakout rooms with peers to share and receive gleaned insights. (2.0 ADTA CEs)
4:15 p.m. – 5:45 p.m.  
Keynote Speaker: Carmen C. Marshall 
(1.5 ADTA, NBCC, NYLCAT CEs) 
6:00 p.m. – 7:00 p.m. 
Moving towards Common Ground 
A contained and facilitated virtual space to reflect...move...and witness in silence.
8:00 p.m. – 10:00 p.m.
Dance Party!  
A celebration of resiliency and community. 
No better way to end the day than in joy and laughter and rhythm! Costumes

highly

encouraged!
Looking for costume inspiration? We invite you to consider themes of

superpowers, resiliency, spring, awakening, and rebirth

. Family members are welcome! (Friends and family outside of the household are welcome to purchase dance only registrations to join in on the fun.)
Registration Information

 
Early Bird Registration (Before April 11)
- includes access to Dance Party
$49 Member 
$29 Student 
$79 Non-Member
Dance Only Admission $10 Member / $5 Student 
Registration
(After April 12)